Apple Genuine Airport 802 11b Wireless Card For Powerbook G3 Firewire All Powerbook G4 Titanium Models All Ibook G3s Power Mac G4 AGP Models 350-1ghz Power Mac G4 Cube Emac G4 700/800mhz System Pulls Model APLM7600LLE
$23.27
Apple Genuine Airport 802 11b Wireless Card For Powerbook G3 Firewire All Powerbook G4 Titanium Models All Ibook G3s Power Mac G4 AGP Models 350-1ghz Power Mac G4 Cube Emac G4 700/800mhz System Pulls
Description
Additional information
Reviews (0)
Description
Apple
AirPort
802.11b Wireless Card
Mac / 802.11b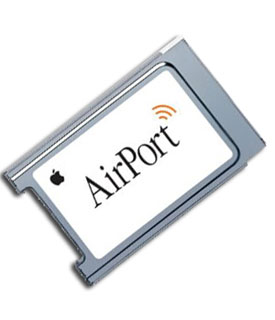 Surf the Web from Anywhere
Powerful, affordable, and incredibly easy to use, AirPort gives you the freedom to use your portable computer anywhere, set up your desktop computer anyplace, and share a single, wireless Internet connection with your family, students, or employees.
Connecting yesterday's Macs to the internet ties you to one network connection and one location. So much for portability. To access the internet with more than one computer, you had two choices. You could order another telephone line for the second computer-and a second account if you didn't want to wait your turn to go online. Or you could wire the computers together in a network-drilling holes in walls, running messy cables through rooms, and negotiating complex networking software.
Not anymore! Based on an 11-megabit-per-second wireless local area network technology instead of traditional cabling, Airport is an easy-to-use system that lets your vintage Macs go wireless in minutes
Additional information
| | |
| --- | --- |
| Weight | 1 lbs |
| MPN | APLM7600LLE |
| Condition | |
| Expiration Date | |
| Product Type | |
| Google product category | |
---
Only logged in customers who have purchased this product may leave a review.