Description
The Brother P-touch PT-D600 PC-Connectable Label Maker features a wide range of design options and the ability to connect with both PC and Mac. Save time and increase printing speed by saving regularly used labels. The full-color display makes it easy to preview labels before printing. 
Brother P-touch PT-D600 PC-Connectable Label Maker Design Options
The Brother P-touch label maker is a type of specialized scanner that can be used with the inbuilt keyboard or connected to a PC or Mac for more label design options. The five different split-back tape widths up to approximately 1in. (24mm) wide, 14 fonts in eight different font sizes, the capability to print seven lines of text per label, 99 frames and over 600 symbols mean that businesses can easily personalize a wide range of labels.
Fast Label Making 
Quickly produce high-quality graphic, barcode, and logo prints with the Brother P-touch PT D600 label maker that features resolutions up to 180 by 360 dpi when connected with a computer. The automatic tape cutter helps speed-up high-volume print jobs. Print speeds reach 30mmps when connected with an AC adapter and 20mmps when using batteries.
Large Internal Memory
This label maker has the capability of saving up to 99 labels. Storing regularly used labels saves time when re-printing and ensures consistency. Specialty in-built templates quickly allow the addition of time, date and asset management and cable labeling information.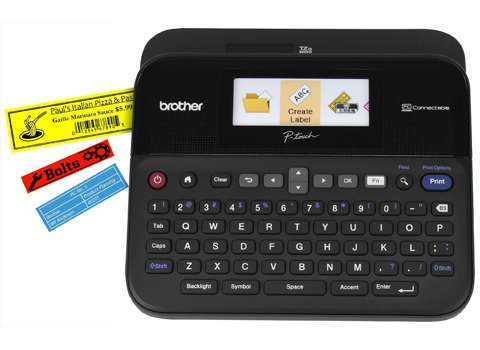 Brother P-touch PT-D600 PC-Connectable Label Maker with Color Display
Overview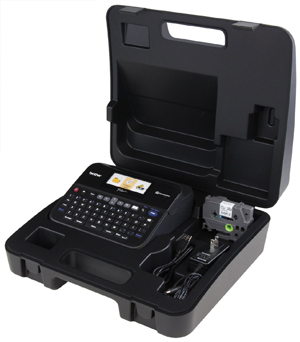 The PT-D600 is a versatile, PC-connectable label maker well suited for a variety of labeling usages in a business environment. Quickly create professional-looking labels using the built-in keyboard, or connect to a computer to create more personalized labels. The intuitive, full-color graphical display offers easy access to formatting menus as well as the ability to preview actual label appearance before printing. Just type, format and print. You can even save up to 99 labels in the large memory, a great time-saving feature. With its included AC power adapter and USB cable, you can be confident that your label maker will be ready when you are.
The PT-D600 works with five different TZe tape widths - and the convenient, top-loading tape design lets you easily change tape cassette sizes and colors.
Standard TZe tapes are durable and laminated, so they withstand water, heat and fading. See the Supplies & Accessories tab to view our full-line of standard and specialty TZe tapes.
Features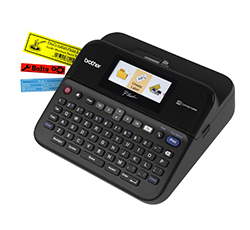 Full-color graphical display: View label appearance before printing
PC-Connectable: Use stand-alone, or connected to a PC or Mac for added design capabilities
High-resolution PC-printing: For crisp graphic, barcode, and logo printing
Super-fast print speeds: With Automatic Tape Cutter for high-volume jobs
Split-back tapes: Uses durable, easy-peel tapes in five different widths up to 24mm (approx. 1")
Supports large character printing: Print up to eight font sizes
Multi-line labels: Prints labels with up to seven lines of text
Personalize labels: Use 14 fonts, 11 styles, 99 frames, over 600 symbols, plus barcodes
Large Memory: Save up to 99 commonly used labels and help save time with reprinting
Includes: 0.94" (24mm) "TZe" starter tape, USB cable and AC power adapter
Specialty templates: Print labels for asset management, cable labeling – even add time and date
Specifications




Desktop / Dual Operation


TZe


3.5mm, 6mm, 9mm, 12mm, 18mm, 24mm


26.2'


Thermal Transfer


Standard Laminated, Flexible ID, Extra Strength Adhesive , Non-Laminated Iron-on Fabric, Acid Free


20-characters x 3 line Full-color Display with Backlight


Yes


180 x 360 dpi (when printing from a computer)


up to 30mm/sec. (using AC adapter); up to 20mm/sec. (using batteries)


QWERTY
Cutter
Auto
Batteries
6 AA Alkaline (optional)
ENERGY STAR® Qualified
Yes
AC Adapter
AD-E001 (included)
Interface
USB
Software Features
Auto Power Off
Yes
Number of Fonts
14
Fonts
Helsinki, Brussels, US, Florida, Belgium, San Diego, Los Angeles, Calgary, Letter Gothic, Adams, Atlanta, Brunei, Germany, Sofia
Font Sizes
6, 9, 12, 18, 24, 36, 42, 48 pt., plus Auto
Number of Font Styles
11
Built-in Symbols
617
Font Styles
Normal, Bold, Outline, Shadow, Solid, Italic, Italic Bold, Italic Outline, Italic Shadow, Italic Solid, Vertical, Vertical Bold
Max. Print Height
18.0 mm
Maximum Print Lines
7
Multi-Block
Yes (Max. 5 blocks)
Label Length Setting
Auto / 30mm - 300mm
Horizontal Alignment
Left, Center, Right, Justified
Vertical Printing
Yes
Mirror Printing
Yes
Text Framing/Fill Pattern
99 Frames ⁄ No Fill Patterns
Multi-copy Print
Up to 99 copies
Memory
Yes (up to 99 labels)
Date/Time Stamp
Yes
Built-in Designs/Templates
25 Label Collection designs
Download templates from Brother Cloud‡
Yes
Auto Formats
Asset Management, Files, ID, Media, Signage, Cable Labeling
Database Printing‡
Yes (using P-touch Editor software)
Barcodes (Stand-alone mode)
9 kinds (CODE39, ITF 2/5, EAN13, EAN8, UPC-A, UPC-E, CODABAR, GS1-128(UCC/EAN128), CODE128)
Barcodes (connected to computer)
CODE39, UPC-A, UPC-E, ITF (1-2/5), EAN-8, EAN-13, GS1-128 (UCC/EAN-128), CODE128, CODABAR, POSTNET, GS1 DataBar (RSS), QR Code, PDF417, Data Matrix, Laser Bar Code, ISBN-2 (EAN13 AddOn2), ISBN-5 (EAN13 AddOn5), Micro QR Code, MaxiCode, GS-1 Composite, AztecCode
Operating System
Windows® 8/8.1, Windows® 7; Windows Vista® Mac OS X 10.7.5, 10.8.x, 10.9.x
Payment & Security
Your payment information is processed securely. We do not store credit card details nor have access to your credit card information.